Meg Soucy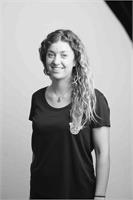 Get to know: MEG
WHAT INSPIRES YOU?
Sharing my passions with open minded people.
IF YOU WERE ASKED TO CONTRIBUTE TO 'The Book of Fitness Secrets', WHAT WOULD BE YOUR ONE SECRET?
Your body is unlike anyone else's, respect, honor and understand its limitations and its strengths.
WHAT WOULD BE THE NAME OF YOUR AUTOBIOGRAPHY?
Born to be Saucy
WHICH 3 SONGS WOULD YOU LISTEN TO FOR THE REST OF YOUR LIFE?
Van Morison - Into the Mystic
Alabama Skakes - Going to A Party
Bob Marley - Redemption Song
WHAT IS ONE THING MOST PEOPLE DON'T KNOW ABOUT YOU?
I was in an accident four years ago that nearly killed me.
GUILTY PLEASURE?
I cannot turn down a homemade pie
CERTIFICATIONS
500 Hour RYT
Meg Soucy instructs the following:



Our Vinyasa + Meditation class is great for those who want to deepen their practice. Begin class with breath work, move with the breath, and end with yoga nidra + meditation. Notes: We recommend a basic knowledge of yoga prior to this class. Try our Basic Flow and Free Guided Meditation in preparation for this class. This class is heated to approx. 85 degrees.




Tune in for this 30 minute guided meditation. This practice is meant to provide space for you to have an individual experience. The method that is used is based on the ancient philosophy of yoga and often the instructor will reference yogic texts. Practice meditation at least 2 times per week to experience all the benefits.




This class shares the name of our studio, so it MUST be amazing. Our signature Ride/Reflect class has it all. Cycling benefits include increased muscular endurance, stress reduction, and a major calorie burn. While yoga complements this, utilizing poses that focus on flexibility, balance, as well as active and restorative stretches.